Yeah. He's backkkkkkkkk!!!! This morning's
WaPo
floats the trial balloon.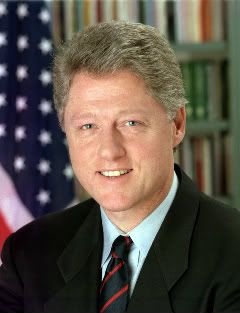 Who better than Bill Clinton to deepen and energize such a tradition? Why shouldn't former presidents continue their political lives in Congress? The British have long benefited from a tradition whereby former prime ministers acquire a seat and voice in the House of Lords. In today's unusual circumstances, surely beyond the imagination of any novelist, Secretary of State Hillary Clinton would not have to fret about suitable protocol for dealing with her spouse on foreign trips were he occupied, full time, with senatorial duties.
WaPo makes the case for why Governor Patterson should chose Bill Clinton. We already know he is well-qualified and loved, so the question Patterson faces is with the various groups in the Big Tent Party. Clinton is adored by most of the groups that make up the D party others in the field don't have that advantage.
Doing so would spare the governor the agonizing dilemma of choosing from the 20 or so Democrats already named as contenders for the junior senator's seat. Those mentioned include six sitting members of the House of Representatives (three of each sex), Attorney General Andrew Cuomo, Caroline Kennedy and her cousin Robert Kennedy Jr., Buffalo Mayor Byron Brown (an African American), and Bronx Borough President Adolfo Carrión Jr. (who is Hispanic). In this no-win competition, Paterson has to balance claims of gender, race, ethnicity and geography. He could wind up gaining one grateful ally while alienating not only all the losers but also millions of members of the disparate constituencies that each represents.

Bill Clinton is the most attractive choice. Peace and prosperity are the two words that define the Clinton years. Our country is in ruin over the last 8 years of Bush, Bill Clinton understands business and is a
fiscal conservative
. Got that Republicans? Clinton was able to get rid of the national debt from the Ronald Reagan years and left George W. Bush with a surplus. Bush quickly spent, spent, spent... and accomplished nothing worthwhile. Catastrophe and carnage are the two words that define W. We shall never let another Bush govern anything ever again.