Be still my beating heart. My favorite men are smart, Democratic, Tennesseans... like these guys. The world needs more men like these three. Hear! Hear!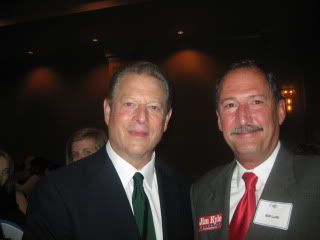 Vice President and Nobel Laureate Al Gore with the Mayor of Signal Mountain Bill Lusk.
and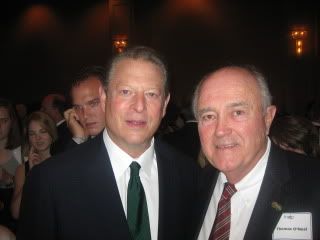 Vice President and Nobel Laureate Al Gore with Attorney and good friend, Tom O'Neal.
We had a great time up in Nashville. The place was packed, even the Finance Council reception had hundreds in attendance. Let's see: a thousand bucks times hundreds of folks equals
Kaching! Kaching! Kaching!
for the TNDP. There were way over three thousand at the dinner last night. I know there were many from Chattanooga but the place was so large, I couldn't find them.
It was great to know a protest for health care took place outside the convention hall. I saw some folks walking at the dinner with Pass HR3200 stickers (I was a little jealous because I didn't get one) but am glad to see the stickers outnumbered the Blue Dogs. I was thrilled to hear all of our speakers come out strongly for health care reform, especially President Clinton and my President Al Gore. Also, Mark Nacarato, head of the SEIU, passed out great flyers to each table discussing the Blue Dogs who are trying to sabotage President Obama's health care plan. Kudos to Mark and the SEIU!
Speaking of saboteurs, Vickie Gregg of Blue Cross/Blue Shield of Tennessee was in attendance. So was Fed Ex.
But best of all, our own Weldon Markham, member of the State Executive Committee and best Yellow Dog Democrat anywhere, was there to support the party he has served for so many years. Weldon's health is declining but his heart is still strong. Can't think of a more loyal Democrat than Weldon. He's the greatest.