The Obama's spent the weekend in Asheville at the historic
Grove Park Inn
. The inn exemplifies the Arts & Crafts movement of 100 years ago. Asheville is my favorite town in the South; perhaps, our country. The Grove Park Inn is a comfortable and historic place. The GPI has the largest collection of Roycroft furniture in the world.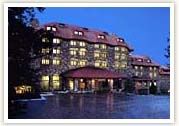 You may wonder: what is Roycroft? Who were the Roycrofters? The Roycrofters were an artisan movement founded in East Aurora, New York started by
Elbert Hubbard
in 1895. With the establishment of the the Roycroft Press and the Roycroft Community, Hubbard fulfilled one of the dreams of Arts and Crafts Philosophers: a self-contained and self-supporting community of people living and working together.
Hubbard pioneered the idea of offering a premium or gift for purchasing his products when he was in the soap business. He applied this philosophy to his own business, Roycroft, which began as a publishing and bookbinding concern. With the purchase of his Little Journeys series of books and magazines, Hubbard offered his now famous 'Little Journeys' bookstands in oak or mahogany as an incentive.
From 1895 through 1938, the Roycrofters produced finely bound books, hammered copper items and fine arts and crafts (mission) style furniture and textiles. Elbert Hubbard died with the sinking of the Lusitania in 1915 leaving his son Bert at the helm. Sadly, Bert did not have his father's flair for promotion and business management and Roycroft closed and was sold to a publisher from Indiana.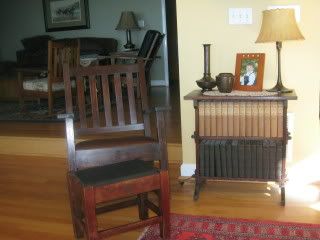 With the purchase of a set of these Hubbard book's, this shelf was included with the sale. Also shown in photo is a Roycroft rocker with footstool. The hammered copper pieces include a lamp with vellum shade from the Grove Park Inn, a 4.5" shoulder vase in Roycroft's Aurora Brown finish and a rare 7" American Beauty Vase.
During the height of Roycroft's production, Edwin Grove commissioned the Roycrofters to produce the furniture and classic copper lighting for his Grove Park Inn in Asheville which opened in 1913 to much fanfare. Today, we have the
Roycrofters at Large Association
that carry on the beautiful pottery, textiles, copperworks and furntiture of the Arts and Crafts era. Click on the link to find out more about this. Be warned: once you look into the Roycroft movement, you will be addicted. Their creed is:
"A belief in working with the head, hand and heart and mixing enough play with the work so that every task is pleasurable and makes for health and happiness" - John Ruskin.
Today, Arts and Crafts pieces are quite valuable; perhaps, you have some or recognize it from your relative's home. Names to look for in furniture are Limbert, Roycroft, the Stickley Brothers, Harden and many more. Pottery and art glass pieces include: Newcombe College, Roseville, Rookwood, Loetz, and many others. Metalworks include Dirk Van Erp, Roycroft, Limbert, the Stickley's, Benedict Studio, Avon Coppersmiths, Jarvie, and many others. All are very valuable and beautiful. They represent one of the best periods of Americans craftsmanship and ingenuity.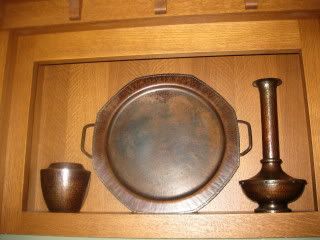 In the words of William Morris:
"Have nothing in your house that you do not know to be useful or believe to be beautiful."

Stickley furniture has brought back a reproduction of the famous Asheville Clock. It is available wherever Stickley is sold which tends to be the priciest furniture and design stores.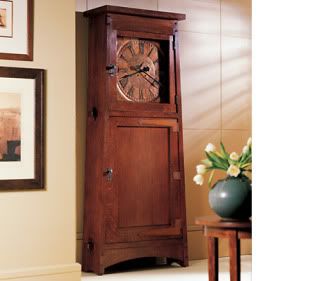 Photo from Stickley's ad
Often it is fun to find these items of pottery, glass, and furniture at antique shops, estate sales and auctions. Please feel free to share what you have with us and its history.