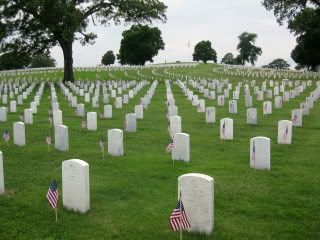 The Chattanooga National Cemetery.
As many times as I have visited this hallowed ground, it still moves me to tears. The cemetery was created by Major General George Thomas on December 25, 1863 after the Battle of Chattanooga. The Battle of Chattanooga consists of the battles of Missionary Ridge, Orchard Knob and Lookout Mountain (Battle above the Clouds). The war left so many casualties that Thomas needed to create a cemetery in order to bury them. The site was a farm adjacent to the railroad tracks. Originally it was 75 acres today it is 120. The site has a 100' round hill that faces both Lookout Mountain and Missionary Ridge. During the 4 day battle of Lookout Mountain, General Ulysses S. Grant used the hill for his headquarters.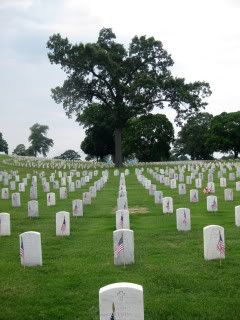 From the
Veterans Administration
By 1870, more than 12,800 interments were complete: 8,685 known and 4,189 unknown. The dead included men who fell at the battles of Chickamauga, Missionary Ridge and Lookout Mountain. There were also a number of reinterments from the surrounding area, including Athens, Charleston and locations along the line of Gen. Sherman's march to Atlanta. A large number of men—1,798 remains—who died at the Battle of Chickamauga were relegated to unknowns during the reinterment process.

There are 7 Medal of Honor recipients buried at the Chattanooga National Cemetery.
The Medal of Honor may only be awarded to a person who was on active military service at the time of the incident. The first four names were part of the Andrews Raiders which Disney turned into a film called "The Great Locomotive Chase". The last name on the list, Corporal Desmond Doss, was a medic on Okinawa during World War II. He was a Seventh Day Adventist and refused to use a gun. He was a conscientious objector and a medic, he saved over 100 men by bravely going through intense crossfire to help our men. Eventually, he was hit by a grenade and seriously injured. He waited over five hours for medics to attend to him. His story can be seen
here
Sergeant Marion A. Ross (Civil War), 2nd Ohio Infantry. Georgia, June 18, 1862 (Section H, Grave 11179).
Sergeant John M. Scott (Civil War), Company F, 21st Ohio Infantry. Georgia, June 18, 1862 (Section H, Grave 11182).
Sergeant Samuel Slavens (Civil War), Company E, 33rd Ohio Infantry. Georgia, June 18, 1862 (Section H, Grave 11176).
Private Samuel Robertson (Civil War), Company G, 33rd Ohio Infantry. Georgia, June 18, 1862 (Section H, Grave 11177).
First Lieutenant William F. Zion (Boxer Rebellion), U.S. Marine Corps. Peking, China July 21 - August 17, 1900 (Section U, Grave 40 South Side).
Master Sergeant Ray E. Duke (Korean War), U.S. Army, Company C, 21st Infantry Regiment, 24th Infantry Division. Near Mugok, Korea, April 26, 1951 (Section Z, Grave 373).
Corporal Desmond T. Doss, Sr., (World War II), U.S. Army, Medical Detachment, 307th Infantry, 77th Infantry Division. Near Urasoe-Mura, Okinawa, Ryukyu Islands, April 29 – May 21, 1945 (Section P, Grave 6399-A).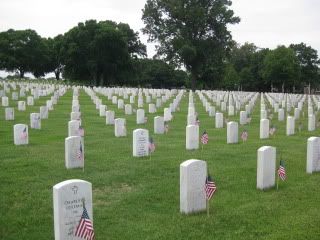 Today, the cemetery has 48,000 buried in it. By 2015, they will be full unless the Veterans Administration expands it. I hope they do so. There are German POWs from World War I and II buried in mass graves. There is a soldier who served in the Revolutionary War buried in the National Cemetery. There are no Confederates.
We have several from the wars in Iraq and Afghanistan. Sgt. Shawn Dunkin was from York, S.C. He had been in Chattanooga once for a wedding and visited the National Cemetery. He was inspired by the beauty and history of this sacred place, so expressed to the Army his wishes to be buried in Chattanooga, in the event anything should happen to him. February 2007, that event occurred when he and two others were killed by a roadside bomb in Iraq. At age 25, Sgt. Dunkin was laid to rest in our National Cemetery.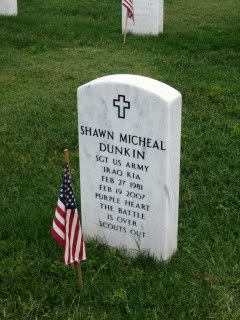 Please take a moment today and drive over to the Chattanooga National Cemetery. It is a worthwhile trip.